Bed bug Epidemic in United States
That's right folks, you read right. There is a Bed Bug Epidemic now found here in the United States, from the East coast to the West coast, and as its increasing regularity throughout the United States, you know we must take action to prevent it from becoming a plague! However, thus far, it's only become an epidemic in certain areas of the country, such as Boston, Cincinnati, Columbus, Las Vegas, Louisville, Newark, New York City, San Francisco and Seattle.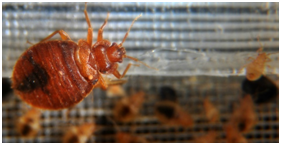 Bed Bug in Action
Bedbugs love to thrive in places with high occupancy. Perfect example 'Äď Hotels. And why is that? Because just think how many travelers check in and out of hotels each and every day. So as travelers check in for the night, they think they'Äôll be getting a good night'Äôs rest, but in reality they mayactually end up getting more thanjust a good night sleep. More like souvenir markings on their bodies. Infestationsare becoming more and more common throughout each state across the United States and I can tell you this much'Ķthat is because Bedbugs just love to transfer from those Hotel mattresses straight into that traveler'Äôs suitcase as if it was its backyard or something. If you don'Äôt believe me, just take a look at this new website we'Äôd like to call, 'ÄėThe Bed Bug Registry'Äô. Go ahead, look it up on your search engine; It'Äôs a registry which lists each and every highly infested hotel throughout the Unites States and the United Kingdom.
There'Äôs this travel company, mainly directed via Internet called, 'ÄėTripAdvisor'Äô, which only recently had released their own list regarding, 'ÄėThe Top Ten Hotels'Äô which are Bedbug infested. It'Äôs not just those run-down, off the side of the road motels that we see in some dead zone population town, they'Äôre talking about those cleaner, higher end, off the market priced hotels in these lit up, skyscraper cities, which all have one thing in common — blood sucking insect'Äôs infestations.
Bedbug infestations are becoming epidemic in commercial and residential facilities. Smaller than the head of an eraser, bed bugs hide in laptops, cellphones, any place that's warm, and only come out at night to attack unsuspecting victims; either human or animal.
Bed bug infestations are increasing in mass proportion and pest control professionals need to be prepared in order to handle different types of problems.
In the last two years, there has been a resurgence in the number of bed bug infestations within North America alone. Nicknamed,'ÄėBed-Bug City'Äô, it sure has maps showing the extent of the plague, with the situation being worst; alongside with some of the heaviest infestations spreading in the Western Coastal regions of the United States; which alone has a climate the most favorable to year round bed bug travelling they are killed in winter should they be found outside the warm comfort of a nest in someone'Äôs bedroom, which inhibits their ability to travel in some regions of the country.
New York 'Äď The recent news that a Manhattan co-op spent $250,000 battling bed bugs made us wonder if buildings in some NYC neighborhoods were statistically more at risk than others. The answer is yes, according to figures supplied to Brick Underground by the NYC Department of Housing Preservation and Development.
As shown in the five-year chart above, which measures 311 complaints through the fiscal year ending June 30th, Brooklyn holds onto the title of bed bug king. It widened its lead for the fifth consecutive year, logging 641 more calls than the year before and 1,489 more than runner-up Manhattan. In Manhattan, the highest concentration of complaints came from areas north of Central Park, accounting for 1,698 of the 2,553 calls. The Upper West Side logged the next highest numbers (235) followed by Chelsea/Clinton (197).
Bed bugs
On the sort of bright side, while bed bug complaints continued to soar citywide, the epidemic seems to be growing at a slower pace. Complaints increased by 19.2% (up to 10,985) in the last fiscal year. That's somewhat less alarming than the 33.7% increase logged the year before.
After almost being exterminated in the United States and Canada for fifty years, common bed bugs are staging a major, and highly unwelcome, comeback. This insect feeds exclusively on the blood of warm blooded creatures, I. E., birds and mammals. For this reason, our 21st century outbreak is starting in motels, schools, hotels, etc.
Another possible factor was discovered when it was noted that outbreaks of the pest were occurring in geographic epicenters. Three of the epicenters were found to center around poultry factories in three cases in three different states; Arkansas, Delaware and Texas. Infested poultry were transferred bugs to workers who, in turn, brought the parasite home with from work. While data for be dug cases in Mexico are unavailable, it is knowing that cases reported in the rest of North America have increased throughout the first decade of the new century. Outbreaks in large urban areas like Toronto, Canada, and New York City are of particular concern and proving particularly difficult to reign in.
Florida is the center of tourism in the continental United States. Accordingly, Florida is filled with hotels, motels, hostels and other paid residences that are available to accommodate its tourists. Unfortunately, many of the tourists that stay at these hotels/motels are also finding bed bugs in their rooms. The bed bug epidemic has hit Florida and hit it hard. It makes no difference whether the facility is a 5 star or 5 diamond rated property or an inexpensive motel, bed bugs find their way into the mattresses and the linens.
Bed Bugs Biting All Over US. Bed Bugs Are Coming to Get You. From the headlines, you might think America was under attack by an army of millimeter-sized parasites. Media reports have bed bug epidemics plaguing cities from New York City to Bloomington, Indiana, to Los Angeles. Similar upticks in bed bug populations have been reported in recent years, an apparent resurgence after almost fifty years of relative quiet.
Bedbugs Invation
If bed bugs transmitted disease, what'Äôs happening would be considered a huge epidemic,'ÄĚ says bed bug expert Dini Miller, an entomologist at Virginia Tech. 'ÄúThough bedbugs have been shown to harbor 28 pathogens temporarily 'ÄĒ including HIV and hepatitis B 'ÄĒ numerous studies have shown the pathogens fail to thrive in the host enough to spread disease to people,'ÄĚ according to an article in the July 16, 2007 issue of U.S. News & World Report.
Hotels have to be especially careful of bedbug infestation. With their many guests, constant hygiene is necessary to be certain that they do not appear in their beds, carpeting or furniture. They can travel along boards or in traveler's luggage, books or other items. They can also be in cars, vans and other forms of transportation. They then attach to a person's clothing and are carried to a new location.
If you ever have any bug related issues in New York City, feel free to call us either at Beyond Pest Control. Once again, and I can't stress this enough we are on call twenty-four hours a day seven days a week to kill those bugs, we aren't kidding whether you call us at 9 am or midnight we will be available to take your call and either get rid of the bug infestation, or answer any questions you may have concerning the bug issue. I can honestly guarantee that there will be someone to answer that call. We make it our business to make you bug free!
For more information check out the rest of our site and You can also from time to time find helpful hints on Our Blog.
Beyond Pest Control.
Our pest control specialists service all NYC boroughs, including Queens, Brooklyn, Bronx, Manhattan, Long Island (both Nassau & Suffolk counties), Staten Island and even both Westchester & Rockland counties.