Welcome to Beyond Pest Control Inc.
• Low Cost, High Quality, Friendly • Professional Pest Control Services
• Same Day Appointments are Available
• Se habla Español
Controlling Bed Bugs in Homes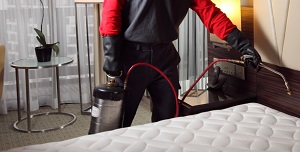 If you are trying to control bed bugs in your house, never use pesticides that are intended for agriculture or garden use. Also, never use custom formulated or homemade products or those that are bought from unlicensed sources.
In order to effectively control bed bugs in the house, consider a combination of heat treatments and chemical measures. These approaches are applied by a pest management professional. Although this can be costly, you can expect great and satisfying results. But if you are considering controlling the pests on your own, know that the job includes moving household goods, furniture and personal items. You have to plan how you wish to treat every room. A clean zone must be set up.
Killing Bugs by Hand
This approach is not 100 percent effective. Bed bugs can be captured and squashed or caught on stick tape and removed. This is likely to minimize some bugs if you do this many times. When hunting bugs, you will need tools like old credit card, clear tape, flashlight, hot soapy water and plastic bag. The credit card and flashlight are used or searching out the bugs by moving your card along crevices and cracks. The tape is meant for trapping the bugs. The hot soapy water must be used for wiping up infestations, blood stains, the bugs, eggs, shed skins and droppings.
Vacuuming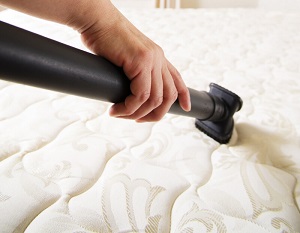 This technique is helpful in quickly capturing and containing bed bugs. Crevices around electronic items, baseboards and other potential hiding places like bed frames, couches and dressers must be vacuumed. If you use a canister vacuum, make sure the content is emptied immediately into a plastic bag, then seal and throw it away. The vacuum must be cleaned thoroughly..
Laundering
This is an effective method for treating items which can be put in the dryer or washing machine. Gather linens and dirty clothe and then seal in plastic bags. Wash them to reduce the possibility of bed bug spread. Make use of the highest temperature that the fabric can withstand when washing and drying. In case you have an item that cannot be washed, dry it for thirty minutes at the highest tolerable temperature.
Steam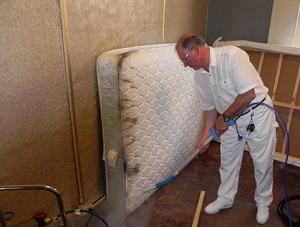 When done the right way, steaming can be very effective. A commercial steamer that has 1 gallon minimum capacity must be used. A floor or upholstery attachment enables steam to penetrate furniture or drapes fabric. In order to kill bed bugs effectively, make sure the surface temperature of the items you wish to treat is 160 to 180 degrees Fahrenheit right after the team brush passed. For monitoring temperature, an infrared thermometer can be used.
If you need a New York pest control, get in touch with Beyond Pest Control right away. The company commits to a 100 percent long-term elimination. You will surely have zero tolerance for getting those bugs again at Beyond Pest Control.
If you have a pest issue or wish to protect your house from invaders, Beyond Pest Control applies its science-based approach in order to help in determining your problem's root and implement the right solution made especially for your specific situation.
Our pest control specialist services NYC & all boroughs including Queens, Brooklyn, Bronx, Manhattan, Long Island, Staten Island, Westchester County & Rockland County, West New York, Union City, Hoboken, Bayonne.
Having Pest Control Issues? check us out at http://www.nypestpro.com  Or Call us (718) 777-2345