Welcome to Beyond Pest Control Inc.
• Low Cost, High Quality, Friendly • Professional Pest Control Services
• Same Day Appointments are Available
• Se habla Español
Getting Rid of Bed Bugs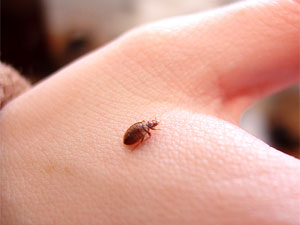 Bed bugs are small insects that live on human and animal blood. Adult bedbugs have flat bodies that are almost the same as the size of apple seeds. But after feeding, their body will swell and become reddish in color. Although they cannot fly, bed bugs can quickly move over walls, floors and ceilings. These pests are among the world's great travelers and transported through clothing, luggage, furniture and bedding. In order to get rid of these pests, read on.
Finding Bed Bugs
Dismantle your Bed and Have the Components Standing on End- You will be looking for the insects themselves and nymphs' molted skins. Usually, dark spots of the dried excrement of bed bugs are present along mattress seams or in any place the bed bugs live. Remove the gauze fabric underlying the box spring so you can have access to carry out inspection and potential treatment. Examine crevices and cracks of bed frames.
Empty Dressers and Nightstands-These must be checked inside and outside and tipped over for inspection of the woodwork underneath. Usually, the bugs hide in corners, cracks and recesses.
Examine Upholstered Sofas and Chairs- Keep an eye on the tuffs, seams, crevices and skirts. Sofas can be main spots for bed bugs when they are used for sleeping.
Treating and Controlling
Follow a pest management approach-Such approach includes various tactics like sanitation, preventive measures and chemicals applied to sites.
Bag and launder impacted items-Small household items which cannot be laundered can be de-infested through heating. For instance, individual items can be wrapped in plastic and put in a hot location for a few days. Also, bed bugs succumb to cold temperatures that are below freezing.
Point steam on them- A device that can generate steam can be used. Also, you can convert an electric kettle to a steam machine by connecting a flexible tube. Steam can kill bedbugs and their eggs. Spray steam thoroughly at all seams and corners.
Use insecticides- You can apply residual insecticides as spot treatments to crevice and cracks where bed bugs tend to hide. Increased insecticide penetration into these locations can be achieved if you remove debris and dirty first using a vacuum cleaner.
Consider the services of a reputable pest control firm- Professional companies are aware of where exactly they can find bed bugs. They know the right products and approach to use to keep your home bug-free for a long time.
Beyond Pest Control is a dependable and trusted exterminator in NYC that you can call anytime. The company has been famous for being a bed bug specialist that sends its well-trained and certified technicians to the field. Beyond Pest Control has been protecting its customers in New York City for more than 37 years. If offers the best solutions to homes as well as industrial and commercial properties like educational facilities, office buildings, apartments, food establishments, hospitals and more. The company takes pride of its committed workforce and quality of service.
Our pest control specialist services NYC & all boroughs including Queens, Brooklyn, Bronx, Manhattan, Long Island, Staten Island, Westchester County & Rockland County, West New York, Union City, Hoboken, Bayonne.
Having Pest Control Issues? check us out at http://www.nypestpro.com  Or Call us (718) 777-2345