Welcome to Beyond Pest Control Inc.
• Low Cost, High Quality, Friendly • Professional Pest Control Services
• Same Day Appointments are Available
• Se habla Español
How to Get Rid of Fleas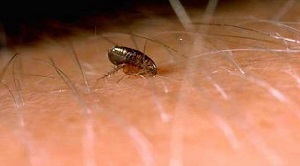 Fleas are parasites which feed on warm-blooded animals including humans. Fleas are capable of jumping 7-8 inches vertically and 14-16 inches horizontally. The reaction of the skin to a flea bite includes a slightly raised and red spot that is itchy. Often, fleas require humid and warm conditions to develop.
Because of the life cycle of fleas, a lot of people do not realize the presence of a flea issue until they are not in their house for a long period of time. This can take place as fleas tend to get hungry while the hosts are not home. They become active as the hosts come back. Many people believe that they can solve the flea issue by putting their pet outside the house.
However, this often makes the pests turn to human hosts. There are many kinds of fleas; however, the cat flea is the most common and this also feeds on humans and dogs. Movement, exhaled carbon dioxide ad body heat are attractive to fleas.
Biology and Habits of Fleas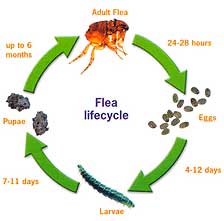 Fleas undergo a full metamorphosis. This process includes four stages: eggs, larvae, pupae and adult. Eggs of fleas are deposited on the ground or floor or laid on the host. Usually, they are found in pet's bedding or upholstery. Female fleas will continuously lay eggs daily until they have yielded as much as 200-400 eggs.
Such eggs will develop into larvae within a couple of days to many weeks, depending the humidity and temperature. Flea larvae appear like maggots and they are active. They will feed on organic debris; however, they especially like to feed on adult fleas' feces. Such diet includes undigested blood.
It is not easy to spot flea larvae and they can be found in cracks and crevices of upholstery and floors as well as deep in carpets. Vacuuming them is not easy as they get entwined in carpet fibers. Moreover the pupae appear like a cocoon which is also tough to spot. A lot of adult fleas will emerge from such cocoon under warm conditions within 7-14 days.
Flea Control Treatment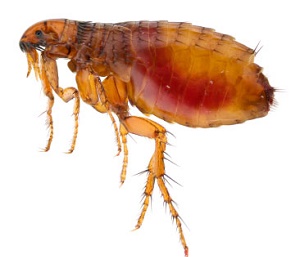 A flea control program can be best started in the late spring before infestation as adult fleas comprise just 5 percent of the entire flea population. In order to contain the infestation, it is important to control fleas at each state.
All surfaces where pets tend to stay must be dusted, swept, vacuumed and mopped. Fleas lay their eggs on pet and these drop off as the pet moves. Every affected pet must be treated and removed from the house for 4-6 hours.
If the infestation is more serious than what you can handle, don't hesitate to call a pest control company. Beyond Pest Control is a reliable pest control New York Company. It services customers round the clock.
The company promises to use the pest control technique that works for your specific pest problem. After carrying out a thorough inspection of your property, Beyond Pest Control implements the right solution. The company is aimed at preserving a healthy and safe living environment by applying approved techniques and materials.
Our pest control specialist services NYC & all boroughs including Queens, Brooklyn, Bronx, Manhattan, Long Island, Staten Island, Westchester County & Rockland County, West New York, Union City, Hoboken, Bayonne.
Having Pest Control Issues? check us out at http://www.nypestpro.com  Or Call us (718) 777-2345