Welcome to Beyond Pest Control Inc.
• Low Cost, High Quality, Friendly • Professional Pest Control Services
• Same Day Appointments are Available
• Se habla Español
Hiring a Good Mouse Exterminator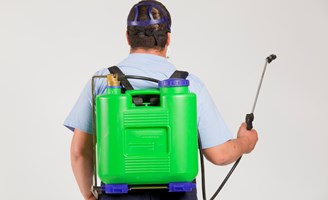 If your attempts to get rid of mice have been unsuccessful, it is probably time to consider calling professionals. Think of the little rodents living in your walls or a group of mice staying under the sink. As you go to sleep, they run over your counters, doing things on the surfaces that you use for preparing your family's food. If you believe your house has been infested with mice, hire a mouse exterminator in NYC. You can depend on the exterminator to solve the issue fast.
When to Call an Exterminator?
As mice are small rodents, homeowners may think that having a mouse or two in tier basement or attic is not something to worry about. But, mice are carries of parasites, diseases, viruses and bacteria. You surely don't wish to share your house with them. Female mice can give birth of as much as ten litters of 5-6 mice in a year.
What to Expect from the Exterminator
Mice exterminators will get rid of mice living in homes. What do they do? A professional exterminator will make use of traps or poison for killing the mice that live in the house. He will inspect your house and determine the areas where poison or traps must be laid. When the initial plan is not effective, the professional will make necessary changes until success is achieved. The exterminator will also give you advice on preventing another mice infestation.
Hiring the Right Mice Exterminator
Look for three Local Exterminators– It is imperative to carry out research to find the best exterminator in NYC. Use the internet to start your search. Review the search results and pick at least three exterminators that you wish to get in touch with.
Prepare your questions-You have to jot down a list of questions that you want to ask to every mouse exterminator. You can ask them the kind of approach they use for killing mice, the number of visits they will make to your house, the way they dispose of the mice, the potential of a guarantee provision and the possibility of having a prevention plan for you.
Interview them– You can talk to the exterminators over the phone or ask them to meet you in person. Be ready to make notes as each conversation goes. Move on if an exterminator seems not willing to spend time giving answers to your questions.
Choose the most suitable– Spend time reviewing your notes and determine the one who answered your questions logically.
Beyond Pest Control is a reputable company that specializes in controlling mice and other pests in New York City. The company strives to attain a pest-free environment by having knowledge of pest habits and biology to allow it to develop and provide the most responsible and treatment programs for residential, commercial and industrial establishments. Beyond Pest Control believes that solving pest issues require customer cooperation. After treating mice infestation, the company offers service report with recommendations on avoid the same infestation.
Our pest control specialist services NYC & all boroughs including Queens, Brooklyn, Bronx, Manhattan, Long Island, Staten Island, Westchester County & Rockland County, West New York, Union City, Hoboken, Bayonne.
Having Pest Control Issues? check us out at http://www.nypestpro.com  Or Call us (718) 777-2345